Fundraising Health Check
Gift Clarity's Fundraising Health Check service uses cutting edge analytics to identify trends, risks, and opportunities for your organization. Comprehensive assessment of donors, giving, and activity uncovers the profound story hidden in your data.
Giving KPIs
Full suite of donor giving metrics, categorized by time, age, giving level, and donor and giving types.
Donor Loyalty
Characteristics of your organization's most loyal donors, including factors accounting for frequency, recency, and consistency.
Value of Top Donors
Nonprofits typically raise most of their funds from a small percentage of their donors. How concentrated fundraising is with these donors can represent organizational risk.
Donor Retention
Identification of how well your organization keeps donors giving.
Current Staffing Capabilities
Assessment of whether your current fundraising staffing meets the needs of your donors.
Activity Summary
Metrics on how often your organization is visiting and calling donors. Direct one-on-one communication is key to building strong donor relationships
Giving by Zip Code
Appraisal of donors in close proximity of your organization's zip code. Engagement planning can be optimized to more fully engage donors who are easy to reach for visits.
Alumni Giving
Included for academic institutions, where alumni are a key constituency.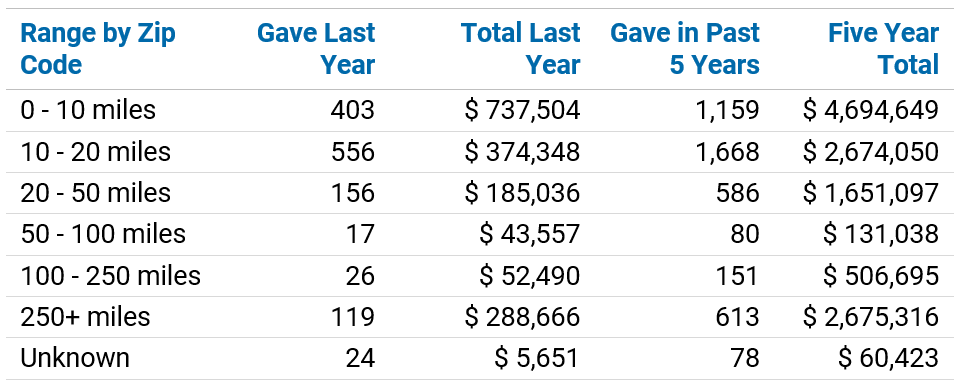 Fundraising Strategic Plan
The most successful fundraising organizations are characterized by careful planning and intention in every action they take. To be the best, do what the best do. Gift Clarity's Fundraising Strategic Plan establishes a framework for success.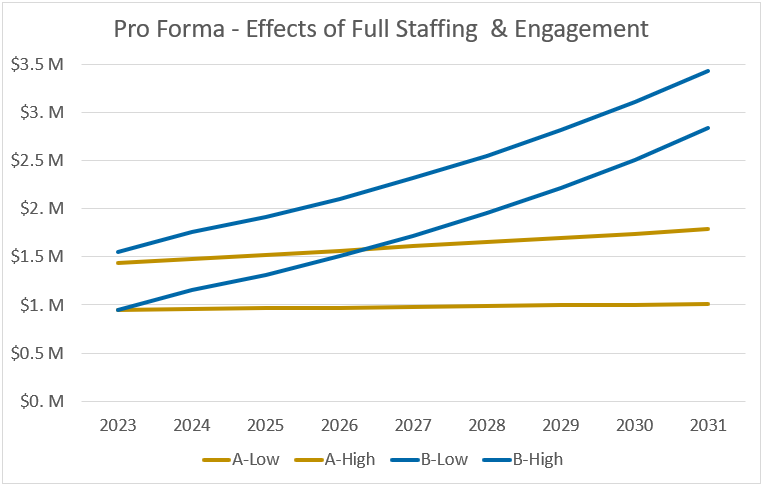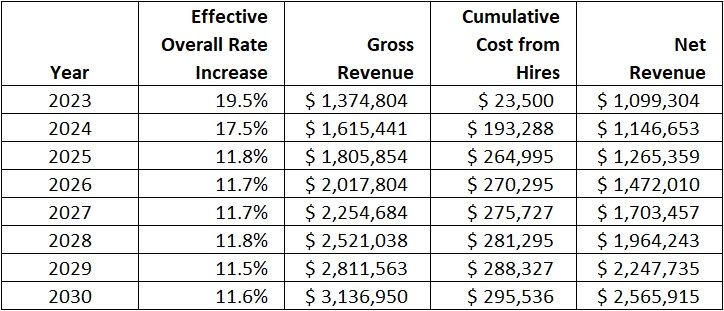 Recommendations
Maximize your fundraising potential with specific recommendations for building stronger donor relationships, tailored to your organization.
Donor Engagement Plan
An actionable plan for your organization to build stronger relationships with all types of donors, including Planned Giving, Major Giving, Annual Giving, and Alumni donors.
Donor Identification
Identified donors with a high propensity to give to your organization, including:
Planned Giving Prospects
Major Giving Donors
High potential Annual Giving Donors
High potential Lapsed and First Time Donors
Staff Staging
Grow your staff intelligently, with checkpoints focused on maximizing ROI in adding fundraisers.
Address Unfulfilled Opportunities
A plan for addressing lost potential from Lapsed, First Time, and Occasional donors.
Ask Amounts
Recommended ask amounts for your top donors, to strengthen giving from your top prospects.
Standards and Best Practices
A Fundraising Strategic Plan empowers your organization to use the same best practices that the most successful fundraising shops use.
Gift Clarity Online
Gift Clarity's donor engagement platform, designed to animate the Fundraising Strategic Plan.
Automate your Fundraising Strategic Plan
Gift Clarity brings your fundraising strategic plan to life by prompting you when it is time to reach out to each donor in your portfolio.
More Donors, More Potential
High potential donors with a propensity to give to your organization do not just happen, they are created. Build deeper relationships with more donors and build the future.
Built-in Prioritization
Recommendations for which donors need to be engaged, when. Do not limit your fundraising by neglecting part of your portfolio.
No Donor Left Behind
Give every donor in each portfolio the attention they deserve. Following Gift Clarity's recommendations, none of your donors will fall through the cracks.
Maximize your Impact
Each engagement scheduled in Gift Clarity includes recommended best practices to ensure you are ready to go, and a checklist guide to reporting on what happened.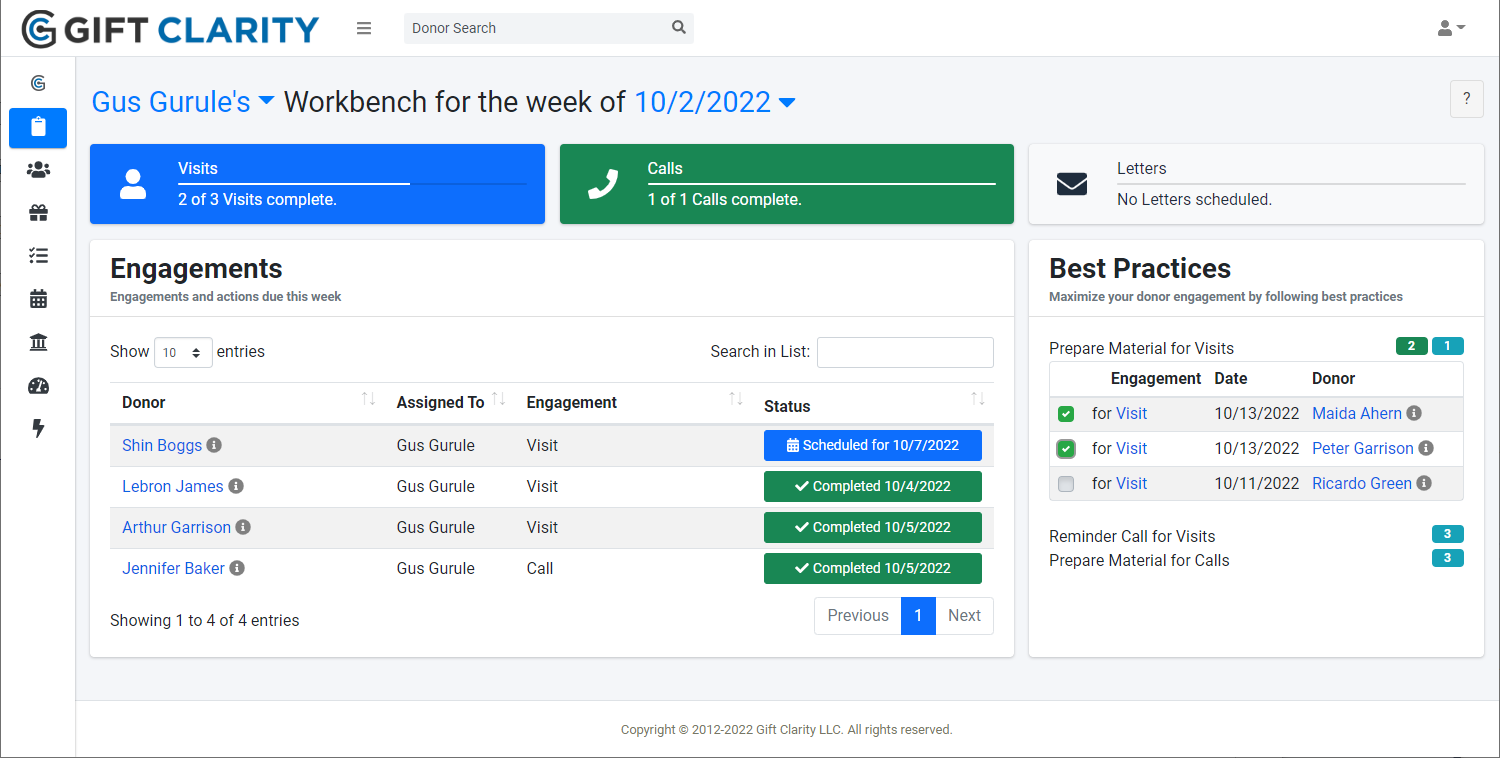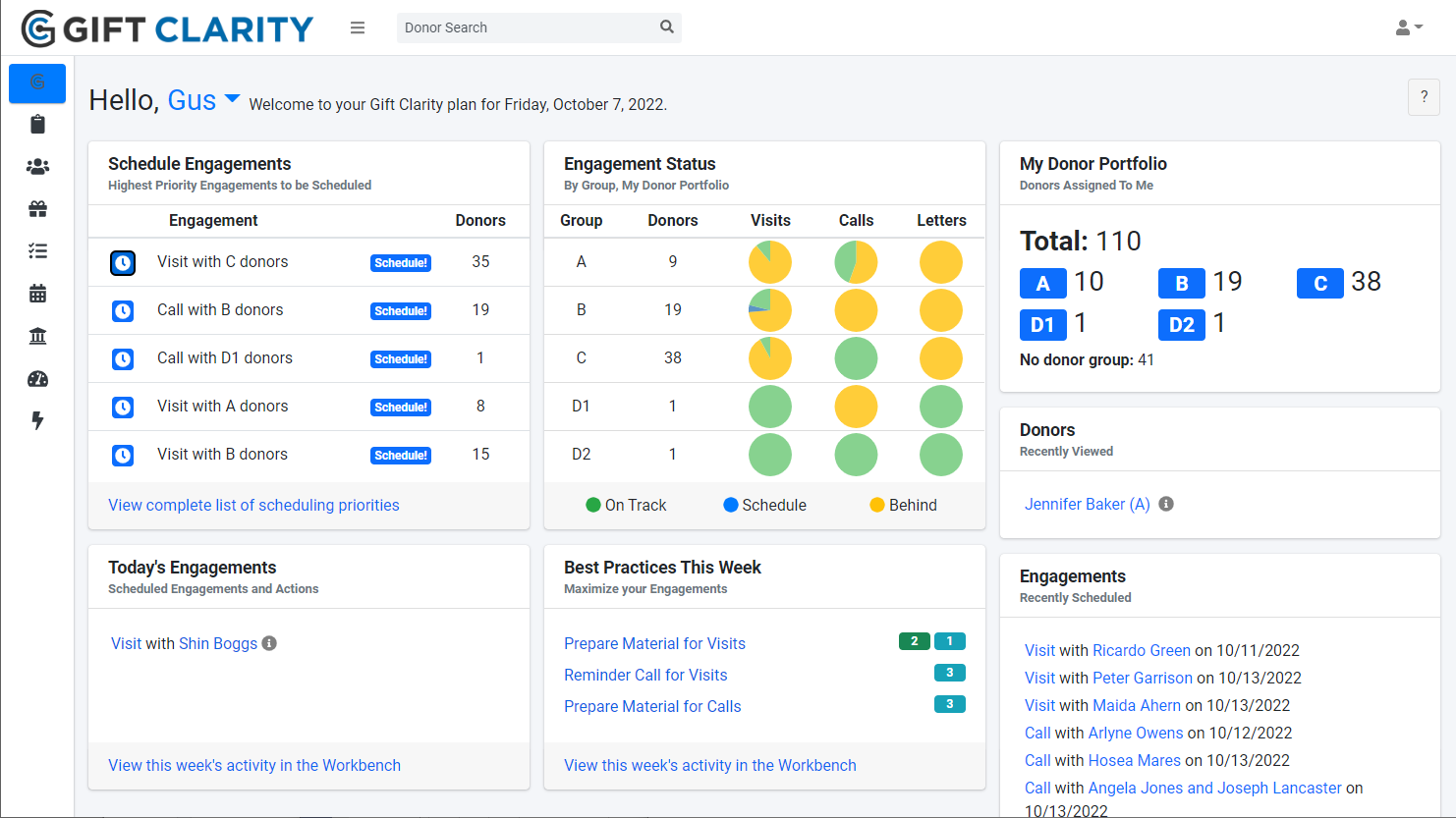 GO Connect
A simple, task focused platform for engaging a set of donors with a specific fundraising intention or engagement goal. GO Lists can be built to address virtually any need.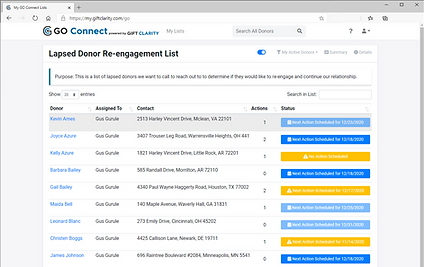 Task Focused
Reach out to lapsed donors. Record feedback from an event. Introduce a new gift officer to their portfolio. GO Lists can be built for any purpose.
Built-in Prioritization
Intelligent prioritization moves upcoming engagements and high priority donors to schedule to the top of your list.
Completely Customizable
Documentation, call scripts, engagement types, and Q&A's can all be customized for each list.